About the course
Aim of the course
The Carotid and Vertebral arteries ultrasound master course is designed to provide a comprehensive overview on how to perform an ultrasound assessment of carotid and vertebral arteries in normal and pathological conditions.
Course content
This course is made of e-booklets supported by hands-on commented video lectures. The course covers basic principles of imaging, ultrasound identification of vessels, step by step scanning protocol guide, ultrasound criteria to detect, characterise and grade extracranial arteries atherosclerotic diseases . The content of the course is continuously implemented and updated.
At the end of this course, the knowledge to conduct a normal examination of extracranial vessels as well as to identify and characterise abnormal ultrasound findings of these vessels will be acquired.
Gain an European Certificate
Our courses are accredited by the European accreditation council for continuing medical education to provide CME.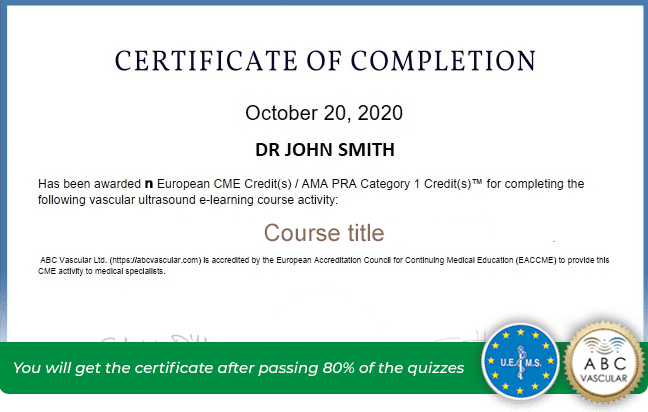 6 video lectures (> 2 hours)
15 e-booklets containing over 300 slides
real life video cases
13 quizzes
20 CME Credits Estimated 20 hours or more to cover videos, slides & quizzes
Self-paced learning
Access to this course is for 12 months from date of purchase Mobile friendly. Learn on-the-go
Access on PC, phone or tablet
Carotid and Vertebral Arteries course review
Lessons in this course