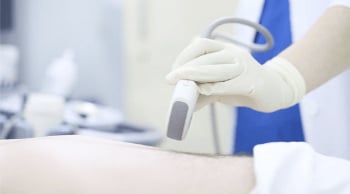 Riguardo l'Imaging Ultrasonografico dell'Aneurisma dell'Aorta Addominale
L'aorta addominale è il sito più comune di aneurisma periferico. L'aneurisma si riferisce ad un ingrandimento anormale di un segmento arterioso causato da debolezza nelle pareti arteriose. Questa debolezza crea un rigonfiamento del segmento arterioso interessato.
Alla fine di questo corso verranno acquisite le conoscenze per rilevare un AAA durante un esame TTE.
Impara come identificare un AAA, come classificarlo con l'ecografia e come misurarne il diametro.
Ultrasound is the first line imaging tool used for screening, diagnosis and follow up of abdominal aortic aneurysms as well as to monitor patients after endovascular repair (EVAR) of AAAs. This course is designed to provide ultrasound practitioners with the fundamentals of abdominal aortic aneurysms scanning for their detection, classification and follow up.
How is the course structured?
This course is made of e-booklets supported by hands-on commented video lectures and e-books covering relevant topics as:
the anatomy and the ultrasound appearance of the aorta and the branches of the abdominal aorta;

how to measure the maximum diameter of a normal and a tortuous abdominal aorta;

scanning protocols ;

guidelines on screening; 

follow ups of abdominal aortic aneurysms;
Furthermore the definition of ectatic aorta, abdominal aortic aneurysm and the classification of different types of abdominal aortic aneurysms will be illustrated as well as the appearance of dissected abdominal aortic aneurysms and other arterial walls abnormalities.
The content of the course is continuously implemented and updated.
What will I get at the end of this course?
Una volta completato questo corso, avrai acquisito le nozioni necessarie per applicarle alla pratica quotidiana per identificare correttamente l'aorta addominale e le sue branche e gli aneurismi dell'aorta addominale.
Inoltre, imparerai l'aspetto ecografico dei diversi tipi di AAAs (sacculari, fusiformi e a clessidra), delle anormalie della parete aortica e le diverse strategie di screening e follow-up.
At the end of this course, the ultrasound practitioner will have acquired enough knowledge on how to detect, measure and classify an aneurysm of the abdominal aorta and how to monitor its growth with serial ultrasound scans. 
Learn abdominal aortic aneurysm with ABC online courses. At the end of the course an European certificate of accreditation and 7 CME AMA PRA credits will be released to the learner after successfully passing multiple choice quizzes.
Gain an European Certificate
I nostri corsi sono accreditati dal Consiglio di Accreditamento Europeo per la formazione medica to provide CME credits.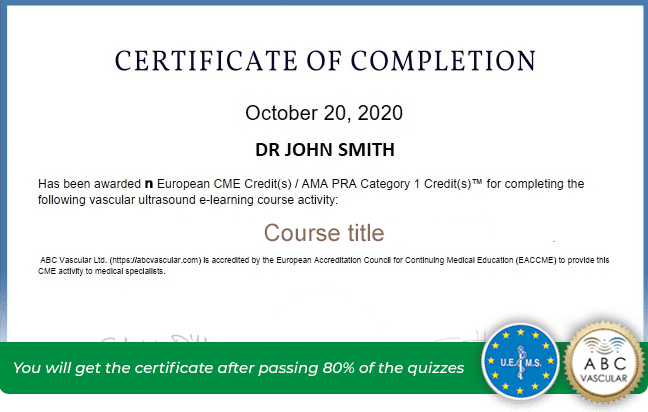 Medical e-learning is now widely used by students and healthcare professionals as:
it offers the possibility to learn at their own pace
without the barriers of location
takes 40% to 60% lesser time for employees and students than conventional learning. Accedi al corso ovunque tu sia Who may benefit from this course?
Any healthcare professional who is approaching vascular ultrasound for the first time as well as healthcare professionals who want to improve their knowledge and skills in different areas of vascular ultrasound. Our subscribers are:
trainee medical doctors
vascular and general sonographers
nurses
as well as consultant medical doctors
as vascular surgeons,
cardiologists,
internists,
angiologists,
radiologists,
or somewhat all healthcare professionals involved in the diagnosis and management of peripheral vascular diseases.
Not Convinced? Get Started For Free with Two Topics
Start by accessing the first two lessons of all courses for FREE. Courses are created by top experts in the field. If you're new to the ABC learning method and you are not sure whether is right for you, this will help you to understand what to expect from ABC courses.
Screening for AAA during TTE Course review
Using ultrasound, the most common definition of abdominal aorta aneurysm (AAA) is when the maximum antero posterior diameter of the abdominal aorta measures more than 3 cm. The prevalence of AAAs varies according to age, family history, gender, body habitus, geographical location. Most commonly AAAs are atherosclerotic, do not involve the abdominal aorta branches and are located below the level of the renal arteries (named infrarenal AAA).
Abdominal aortic aneurysms are generally asymptomatic and if left untreated, may result in aortic rupture (often fatal). Indeed, symptoms are generally associated with the rupture of the aneurysm or to the presence of a dissection of the aneurysm of the aorta.