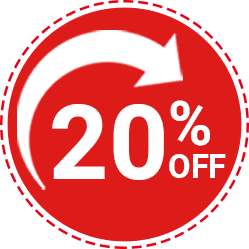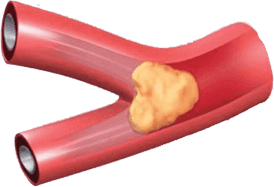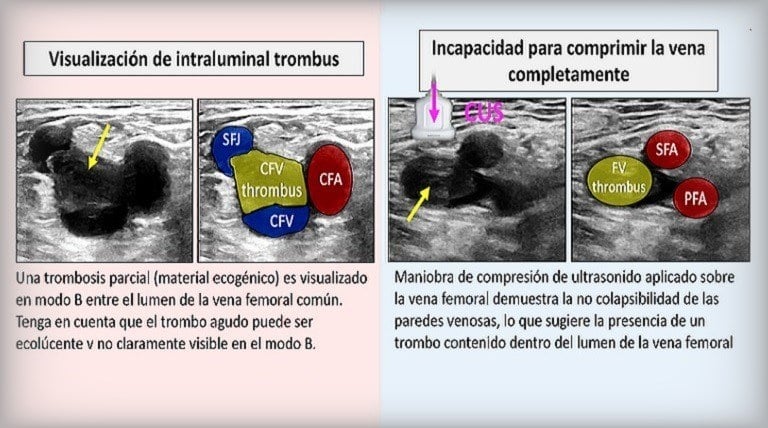 Como Diagnosticar Trombosis Venosa Profunda Poplítea Femoral + CME Quiz
Aprender los principales criterios de diagnóstico para ultrasonido.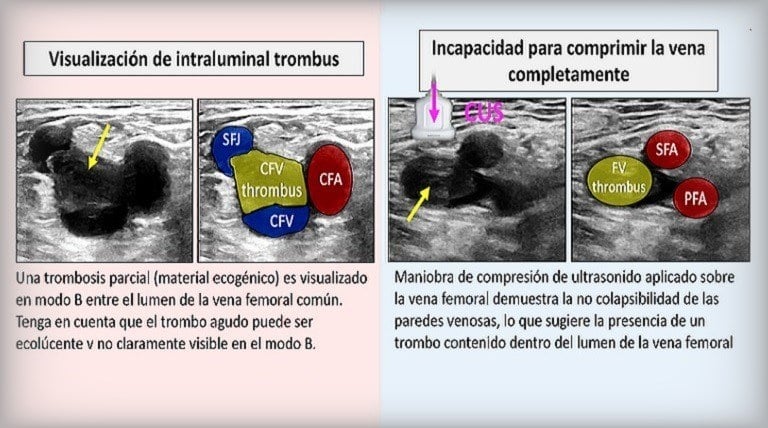 About Como Diagnosticar Trombosis Venosa Profunda Poplítea Femoral +CME QUIz
En este curso, aprenderás los principales diagnosticos para diagnosticar trombosis venosa profunda dentro de la vena poplítea femoral (TVF). Este es el segmento venosos más común en las extremidades inferior afectado por TVF.
Inscríbase en este test de preguntas de opción múltiple para evaluar sus conocimientos sobre las trombosis venosa profunda Poplítea Femoral. Después de pasar con éxito esta prueba (>80% de respuestas correctas) se le otorgará 1 crédito CME y un certificado de finalización.
¿Cómo está estructurado el curso?
El curso incluye un folleto digital resumiendo la tecnica de escaneo y criterio diagnosticos de ultrasonido usados para diagnosis de trombosis venosa profunda de la vena poplitea femoral y una video lectura mostrando ejemplos praticos de casos de la vida real. Este curso demuestra los hallazgos normales de ultrasonido del flujo venoso de las extremidades inferiores y la anatomía, así como la aparición de ultrasonido de una trombosis venosa profunda de las venas femoral y poplítea.
Al final de este curso, se adquirirán los conocimientos para detectar y describir una TVP de las venas femoral y poplítea.
El contenido del curso se implementa y actualiza continuamente.
Obtenga un certificado europeo
Nuestros cursos están acreditados por el Consejo Europeo de Acreditación para la Educación Médica Continua para proporcionar CME.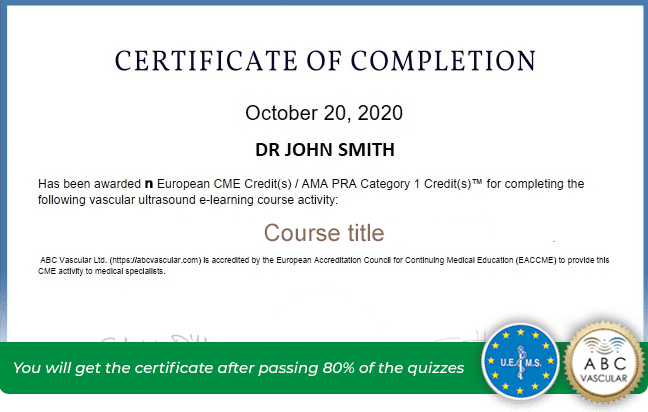 El e-learning médico es ahora ampliamente utilizado por estudiantes y profesionales de la salud como:
ofrece la posibilidad de aprender a su propio ritmo sin las barreras de la ubicación
toma de 40% a 60% menos tiempo para los empleados y estudiantes que el aprendizaje convencional. Who may benefit from this course?
Any healthcare professional who is approaching vascular ultrasound for the first time as well as healthcare professionals who want to improve their knowledge and skills in different areas of vascular ultrasound. Our subscribers are:
trainee medical doctors
vascular and general sonographers
nurses
as well as consultant medical doctors
as vascular surgeons,
cardiologists,
internists,
angiologists,
radiologists,
or somewhat all healthcare professionals involved in the diagnosis and management of peripheral vascular diseases.
Como Diagnosticar Trombosis Venosa Profunda Poplítea Femoral + CME Quiz