About the Vascular Ultrasound Fundamentals Course
The vascular ultrasound fundamentals master course is designed to provide a comprehensive overview of the fundamental principles of the main ultrasound modes (B mode, colour flow and pulse wave Doppler) and how to use an ultrasound machine.
This online accredited Vascular Ultrasound Fundamentals Course is designed to provide ultrasound imaging practitioners with a comprehensive overview on how to perform Basic Vascular Ultrasound.
How is the course structured?
This course is made of e-booklets supported by hands-on commented video lectures. This course covers fundamental principles of vascular ultrasound, scanning planes, different types of transducers used in vascular ultrasound, parameters of B mode, colour flow and pulse wave Doppler as well as their optimisation.
The content of the course is continuously implemented and updated.
What will I get at the end of this course?
At the end of this course the knowledge to use the main ultrasound modes in vascular ultrasound and the use of an ultrasound machine will be acquired.
Learn Vascular Ultrasound Fundamentals with ABC online courses. At the end of the course an European certificate of accreditation and 4 CME credits will be released to enrolled learners after successfully passing multiple choices quizzes.
Gain an European Certificate
Our courses are accredited by the European accreditation council for continuing medical education to provide CME credits.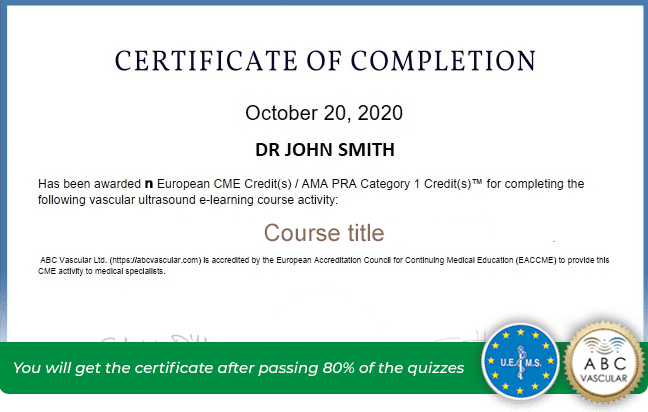 Medical e-learning is now widely used by students and healthcare professionals as:
it offers the possibility to learn at their own pace
without the barriers of location
takes 40% to 60% lesser time for employees and students than conventional learning. Who may benefit from this course?
Any healthcare professional who is approaching vascular ultrasound for the first time as well as healthcare professionals who want to improve their knowledge and skills in different areas of vascular ultrasound. Our subscribers are:
trainee medical doctors
vascular and general sonographers
nurses
as well as consultant medical doctors
as vascular surgeons,
cardiologists,
internists,
angiologists,
radiologists,
or somewhat all healthcare professionals involved in the diagnosis and management of peripheral vascular diseases.
Not Convinced? Get Started For Free with Two Topics of Carotid Ultrasound Course and Vertebral Arteries
Start by accessing the first two lessons for FREE. Courses are created by top experts in the field. If you're new to the ABC learning method and you are not sure whether is right for you, this will help you to understand what to expect from ABC courses.
Carotid and Vertebral Arteries course review