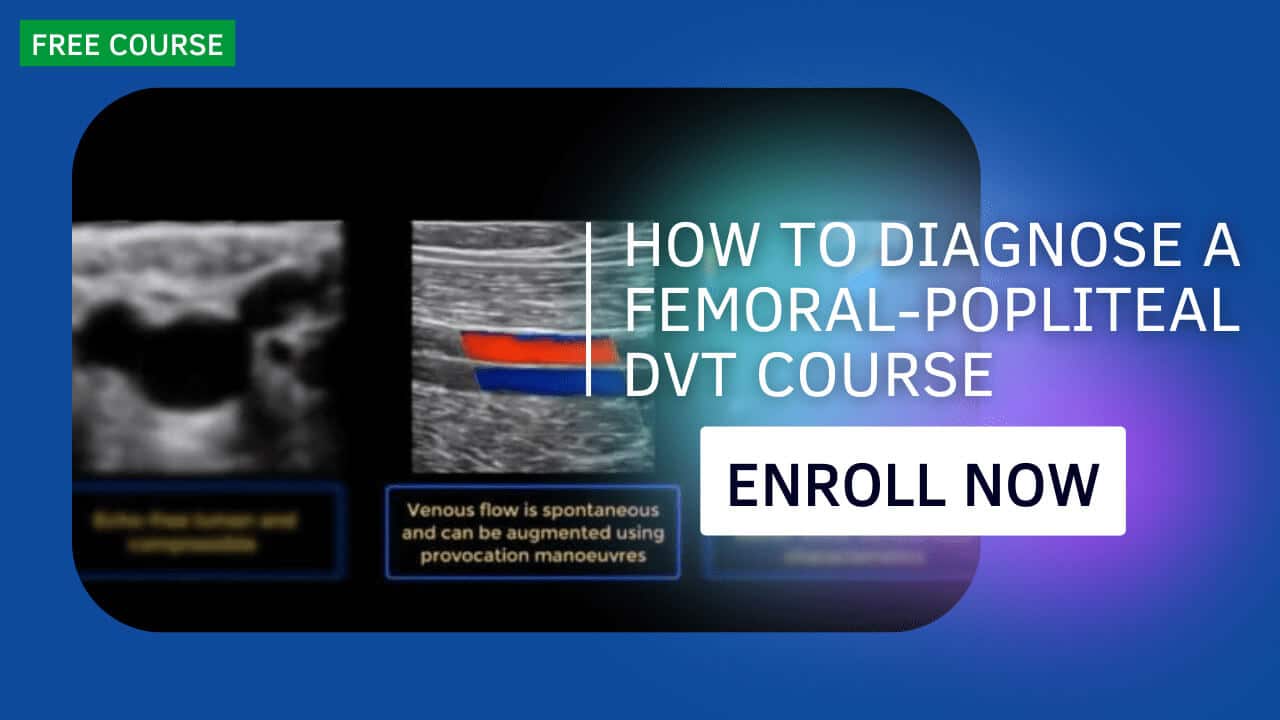 About How to Diagnose a Femoral-Popliteal DVT Course
Diagnosing a femoral-popliteal DVT short course is designed to provide the essential ultrasound criteria used to detect a deep vein thrombosis (DVT) of the femoral-popliteal segment.
How is the course structured?
This course is made of 1 e-booklet supported by 1 hand-on commented video lecture. This course demonstrates the normal ultrasound findings of the lower limb venous flow and anatomy as well as the ultrasound appearance of a deep vein thrombosis of the femoral and popliteal veins.
At the end of this course the knowledge to detect and describe a DVT of the femoral and popliteal veins will be auquired.
Note: The free course doesn't include the CME certificate
The content of the course is continuously implemented and updated.
Gain an European Certificate
Our courses are accredited by the European accreditation council for continuing medical education to provide CME credits.
With only £ 12,95 you will have access to the quizz and get CME credits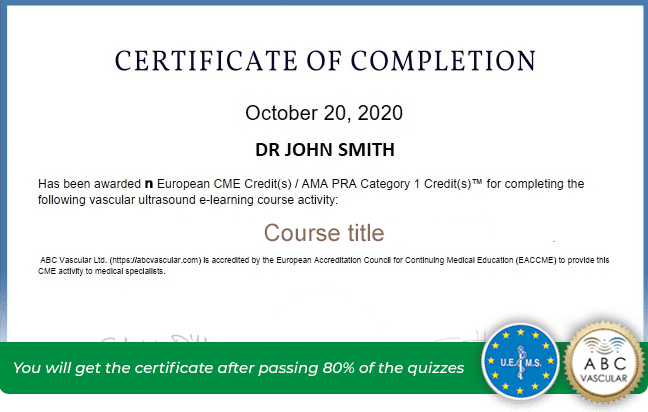 Medical e-learning is now widely used by students and healthcare professionals as:
it offers the possibility to learn at their own pace
without the barriers of location
takes 40% to 60% lesser time for employees and students than conventional learning. Who may benefit from this course?
Any healthcare professional who is approaching vascular ultrasound for the first time as well as healthcare professionals who want to improve their knowledge and skills in different areas of vascular ultrasound. Our subscribers are:
trainee medical doctors
vascular and general sonographers
nurses
as well as consultant medical doctors
as vascular surgeons,
cardiologists,
internists,
angiologists,
radiologists,
or somewhat all healthcare professionals involved in the diagnosis and management of peripheral vascular diseases.
How to Diagnose a Femoral-Popliteal DVT Course review