We would like to share with you some more facts on the diagnostic approach of DVT for the occasion of deep vein thrombosis awareness month 🎗️.
Ultrasound has a high specificity while its sensitivity in diagnosing DVT
varies mainly according to the thrombus location as well as other variables, as shown in the image below.
The compression ultrasound scanning (CUS), mainly performed in B-mode, is the main method to diagnose DVT (see image below). A non-compressibility of the vein is highly indicative of the presence of a thrombosis. A normal CUS response is where the vein wall collapse under the ultrasound probe pressure (see image below).

As mentioned by the international European Society for Vascular Surgery (ESVS) 2021 Clinical Practice Guidelines on the Management of Venous Thrombosis (Kakkos SK et al. Eur J Vasc Endovasc Surg (2021), two distinct ultrasound assessment approaches are used: two or three point compression ultrasound scanning (CUS) and whole leg ultrasound scanning (WLUS). 
With the CUS approach, deep vein patency is only assessed in two or three venous territories (usually the common femoral vein, the popliteal vein, the femoral vein), while the WLUS provides a more extensive examination where the entire deep vein system of the leg is scanned from the common femoral vein to the distal veins.
A combination of all the three modes (B-mode, colour Doppler and pulsed wave Doppler) is usually used to diagnose a DVT when performing a WLUS while only B-mode is generally used in the CUS approach.
20% OFF ON OUR MASTER DVT COURSE
with coupon code
20%DVT2023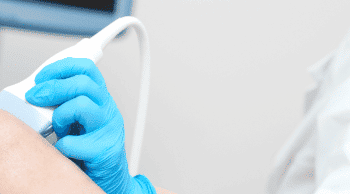 For the month of March, the DVT awareness month, ABC vascular  will share with you some interesting facts on the role of vascular ultrasound in the management of patients with DVT. We will keep you posted in our next newsletter.
Join the growing community of healthcare professionals who choose ABC Vascular to support their learning in vascular ultrasound.
By working together, we can help raise awareness about DVT and ultimately improve outcomes for patients.

Learning is not a destination, it is a journey.