Ultrasound Scanning Protocol for Patients With Suspected DVT
Lorem ipsum - excerpt to go here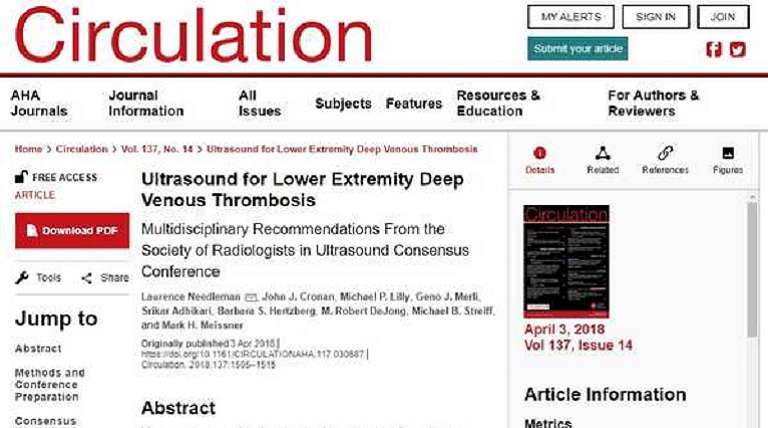 Dec. 30, 2019 / Dr. Cristiana Vitale & ABC Vascular staff
This article is a summary / review of the article "Ultrasound for Lower Extremity DVT – Multidisciplinary Recommendations" by Needleman L, Cronan JJ, Lilly MP, et al. and published April 3, 2018.

See full details on the article >
Venous ultrasound is often the first line imaging test used in the assessment of patients suspected of having an acute deep vein thrombosis (DVT). However there is a great heterogeneity in the scanning protocols of the lower limbs and a standardised scanning approach is still missing. This may result in underdiagnoses and unnecessary testing.
The Society of Radiologists in Ultrasound, assembled in 2016 an interdisciplinary panel of experts in venous diagnosis to review the contemporary literature and develop consensus recommendations to create a standardised approach to the ultrasound diagnosis of lower extremity venous thrombosis. This short commentary is aimed to highlight the key recommendations for the ultrasound scanning protocol to use.
These recommendations were published in Circulation in 2018 by Laurence Needleman et al. (Thomas Jefferson University, Department of Radiology, Philadelphia).
The consensus may be summarised into 5 key areas:
Patient selection
Ultrasound protocols
Serial and follow-up considerations
Terminology for ultrasound reports
Diagnostic criteria
For each key area the outstanding issues were highlighted and a recommendation suggested.
This short summary below focuses on the ultrasound protocols only.

Related ABC Vascular Courses
 
Have you considered learning more with these related courses?
 
Master course on Lower Limb Venous ultrasound
Info on the "Lower Limb Venous" course >
 
Short course on How to Diagnose a Femoral-Popliteal Deep Vein Thrombosis (DVT)
More on the "How to Diagnose a Femoral-Popliteal DVT" course >
Ultrasound Scanning Protocol
The Issue
Current ultrasound practice uses defined scanning protocols with accepted technical standards for the diagnosis of DVT. There is however a great heterogeneity in the clinical practice when scanning lower limbs for DVT assessment. While some ultrasound practitioners simply perform a three point B-mode compressions test, where only the femoral (common, femoral and profunda) and popliteal veins are scanned, others extend the compression examination to the calf veins.
In addition, while some practitioners exclusively perform a B-mode compression test, others implement such test with the colour flow Doppler, and with the evaluation of pulsed wave Doppler, generally at the level of the common femoral veins.

The Recommendation
The panel recommends a comprehensive duplex ultrasound protocol from thigh to ankle with Doppler at selected sites rather than a limited or complete compression-only examination.
The ultrasound examination should therefore include:
Ultrasound compression of the deep veins from the inguinal ligament to the ankle (including posterior tibial and peroneal veins in the calf)
Right and left common femoral vein spectral Doppler waveforms (to evaluate symmetry), popliteal spectral Doppler, and color Doppler images
Compression is performed at 2-cm intervals
If the PWD waveform in the groin is abnormal, further investigation of the ilio-caval system should be performed
"The panel recommends a comprehensive duplex ultrasound protocol from thigh to ankle with Doppler at selected sites rather than a limited or complete compression-only examination."
Such an approach is considered as the safety strategy for the diagnosis of acute DVT by the consensus authors.
In addition, ultrasound of symptomatic areas may be required if the symptoms are not explained by the standard thigh-to-ankle examination.
Symptomatic areas should be evaluated to determine if there is superficial venous thrombosis or other pathology, in particular if the assessment of the deep veins is normal.

Why This Recommendation?
A negative single complete duplex colour examination of the entire lower extremity has a negative predictive value of 99.5%. In patients with clinically suspected DVT, compression ultrasonography is 95-99% sensitive for femoral veins thrombus compared with contrast venography. The sensitivity and specificity of ultrasound in detecting DVT however drops in the calf and represents one of the main limitations of ultrasound.
Thus, by implementing the simple B-mode compression technique with colour Doppler flow and pulsed wave Doppler it is likely to improve the diagnostic accuracy of the ultrasound assessment.
Reference

Needleman L, Cronan JJ, Lilly MP et al. Ultrasound for Lower Extremity Deep Venous Thrombosis: Multidisciplinary Recommendations From the Society of Radiologists in Ultrasound Consensus Conference. Circulation 2018;137:1505-1515.
Published: April 3, 2018
DOI: 10.1161/CIRCULATIONAHA.117.030687
Pubmed link >
American Heart Association Journal 'Circulation' – free access to full article >
Keywords: diagnostic imaging, ultrasonography, veins, venous thromboembolism, venous thrombosis
Additional Reading

AHA Journal
Full PDF article download (326 KB)
PDF – "Circulation" >

Pubmed
Similar and related Pubmed articles
Pubmed >

Summary and Comments From JVS
Link to Journal of Vascular Surgery – Venous and Lymphatic Disorders
JVS – Volume 7, Issue 2, March 2019, Page 282
Journal of Vascular Surgery >

JVS Summary PDF – "Venous Vantage Point"
PDF download from the Journal of Vascular Surgery
Vascular Surgery >

Deep Venous Thrombosis Ultrasound Protocol Recommendations
Summary by Bryant Moeller – Cardiology Advisor website – April 30, 2018
Cardiology Advisor website >
Carotid Ultrasound Course and Vertebral Arteries
Learn how to conduct an ultrasound examination of the carotid and vertebral arteries. We cover the entire spectrum of the carotid ultrasound course and vertebral artery with videos, slides, and quizzes; CME credit is available.
Your Ultimate Guide to Carotid plaque Ultrasound Assessment
By: C. Vitale & F. D'Abate
Explore the world of carotid atherosclerotic plaques with ABC Vascular's latest eBook, "A Practical Guide on the Ultrasound Assessment of Carotid Atherosclerotic Plaques". This guide offers healthcare professionals a comprehensive understanding of carotid plaque ultrasound assessment and its role in cardiovascular risk management.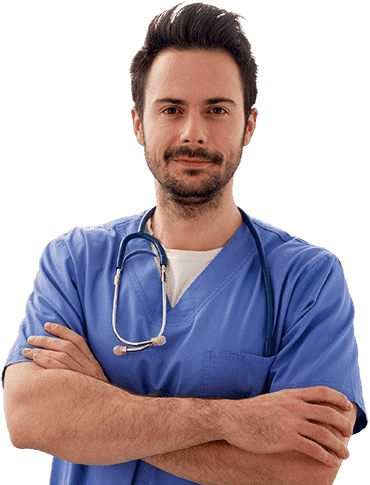 Acquire immediately relevant skills
Expand your Medical Career Opportunities